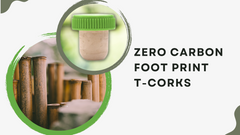 Here at AO Wilson, we're proud to say we've partnered with not just global leaders in packaging, but companies that prioritize creating innovative solutions. 
For decades we've aligned ourselves with Supercap,  who have been designing and manufacturing closures since 1999. Based in Italy, their mission has always been the same; to place the clients' requirements center-stage and to design closures to match the clients' vision. 
With the effects of climate change ever evolving, Supercap mandated a sustainability initiative by doing their best to minimize their environmental impact by implementing the following procedures:
Adopting recirculation systems for water used during production processes
Recovery of waste materials and by-products by reintegrating them into their own production
By transforming a completely natural product, the Supercap E|C|O® line was created. The first bartop closure made from a plant based material, sugarcane, that absorbs carbon dioxide during it's growing cycle. 
Which E|C|O® T-Cork do you choose for your closure?  
Take your sustainability game to the next level with PVC-FREE SHRINK CAPSULES.
Contact us here and let's start a conversation about an eco-friendly full closure solution!