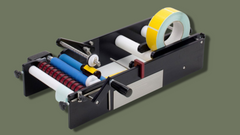 Here's How:
A.O. Wilson has been selling Great Engineering's labeling applicators for nearly two decades, and these machines are known for being world class, robust, reliable, very capable and they also deliver superior quality for the end products.
The models we have all accept a left edge lead, pressure sensitive label feed.
BENCHMATE Labeler
The BenchMate is a manual labeler which will make your labeling experience much more enjoyable and more productive than your tedious and unreliable hand application.
Features:
Lightweight and portable
Easy set up and application
Applies single, front and back as well as wrap around labels
Max. labeling height is 175mm ( approx. 7 inches)
Will label containers with a diameter of 55mm up to 255mm
8-12 bottles per minute